Boxerstock Kids' Village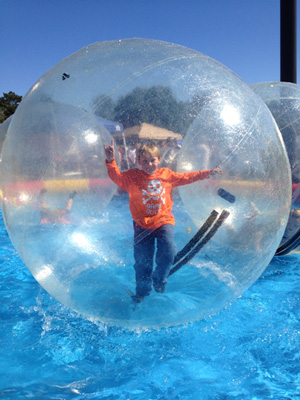 This year our Kids' Village is packed with fun things to do, plus Water Walkers (Human Hamster Balls!)
Boxerstock Kids' Village is packed with tons of family friendly Fall-tastic fun!
Start out with bouncing on one of the inflatables (full day wristbands available), stroll around the family vendors, then head over to our very talented face painter who will help you dream up a wonderful masterpiece, from flowers and animals to a spook-tastic spider for Halloween! Finish your look with some spectacular hair with Renee's Wacky Hair.
Of course, don't forget to check out the "Kids" Stage for some great entertainment, useful info from K-9 Coach and super demos. Take a look at the schedule so you don't miss out!
The Kids' Costume Contest (ages 0-10 yrs old) also returns this year, as well as trick-or-treating! Get your little ones all dressed up for some Halloween fun! Trick-or-treating will be available all day. Pick up your free bag, provided by sponsor Petco, and bring it around to all our vendors throughout the event for some fun and safe Halloween treats.

All new this year, is a Kids' Art Contest, sponsored by The Art Room at The Music Studio at Vinings! Click here for Boxerstock Art Contest rules and details!
Take your sweeties over to the arena to have their pictures made in their great costumes or even make a quick change and get that perfect picture with Santa before the holiday rush. You'll have plenty of time to make that holiday card!
All this fun is on top of our already great family event. So check out the other schedules of bands and demos around the park and grab some great food from the food trucks. And remember, all this to benefit Atlanta Boxer Rescue!
*Any child (ages 10 and under) who comes to Boxerstock in costume will receive a FREE Child admission with one paid Adult admission!
VENDORS / BUSINESS OWNERS
Download information if you would like for your business to be a part of Boxerstock this year!

ON THE KIDS' STAGE!
12:25pm - Welcome and Introduction from emcee Kathy Reed
12:30pm -TBA
1:00pm - Scooby Doo and K-9 Kids
1:30pm -Kids' Costume Contest
2:00pm - TBA
2:20pm -TBA
3:40pm -TBA
4:30pm - Announce Art Contest Winners
Performer Bios
TBA