Boxerstock ~ A Full Day of Music & Boxers!
October 19, 2014 ~ 12 noon - 6pm
Schedule of Speakers and Demos
On the Main Stage
Our Special Guests
Emcee, Shelly Ryan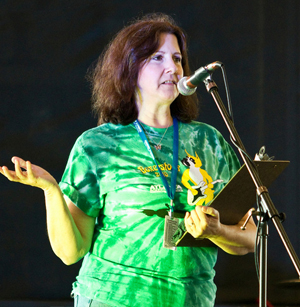 We are proud to have Shelly Ryan back this year to emcee Boxerstock 2014!
Once upon a time there was a little girl who loved to make people laugh...
Michele Wendling (Shelly) Ryan was born in the kingdom of Minneapolis. After being enlightened by great literature (okay, storybook tales), she developed a vivid imagination. Being an only child this trait was useful, although her parents never determined how many imaginary siblings Shelly had.
Children eventually have to decide what they want to be when they grow up. Not easy when your role models give conflicting messages. Could a happy medium exist between innocent fairy tale princess and buxom fashion model? Shelly thought this incongruity was funny!
By high school Shelly realized a sense of humor was more than entertaining; it was therapeutic! This marching band nerd (who stayed home cleaning the fireplace waiting for Prince Charming to show up) spent a lot of weekends with Saturday Night Live and Monty Python.
Inspired by great sketch comedy, Shelly began her adventure in 2004 by joining other writers at SketchWorks, where two of her scripts were produced in a showcase. She also co-wrote a piece that appeared as the closing act in one of their main stage performances.
After graduating from Funny Farm University in 2005, Shelly's appeared at several Atlanta comedy clubs and emceed for a variety of events. Her closest brush with fame was Nickelodeon at Nite's "Funniest Mom Contest." But don't let the mild-mannered, middle-aged mom persona fool you!
Special offer: Purchase Boxerstock's emcee Shelly Ryan's CD "Shelly's Nursery Rhymes: The REST of the Story" during the month of October and she'll donate 50% of all proceeds to Atlanta Boxer Rescue, Inc.
Shelly's comedy has been enjoyed world-wide on live streaming radio. In addition to numerous guest appearances and co-hosting gigs, she produced a virtual comedy cabaret and hosted her own variety talk show. She regularly observes the absurdities of life and is a prolific blogger.
She's a regular contributor to the e-zine Flip Side to Music with her monthly Humor Highway column and audio commentaries. Shelly's joined other artists at the Feel Teal Club, promoting awareness for Ovarian cancer by adding her gift of laughter and a very personal tribute to the late Gilda Radner.
Shelly considers herself to be a late bloomer rapidly making up for lost time. Her mission: to make the world a better place by spreading the universal language of laughter. She shares her own fairy tale in her CD "Shelly's Nursery Rhymes: The REST of the Story..."
...and everyone laughed happily ever after!
Follow Shelly:
Kathy Reed, Emcee side stage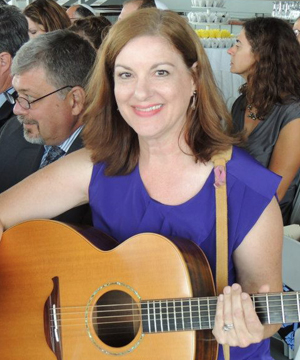 Kathy Reed is a singer, songwriter, and plays bass and guitar. Her musical range and influences reflect her Southern roots as well as her classical training and education. Kathy has toured the US and Europe performing, and boasts that her first job out of college was as the "chick singer at a biker bar." She is a frequent performer in the Atlanta area, and along with her band, she has opened for many legendary players, including Tony Rice, Peter Rowan, Claire Lynch, Patty Loveless, Beppe Gambetta, Frank Vignola, Steep Canyon Rangers, and Chris Proctor. She has had numerous songs published and recorded, and several songs recorded by other artists. Kathy is a breast cancer survivor, and her 2005 CD, "A Little Reassurance," helped raise awareness and funds for breast cancer organizations and featured her original songs. Peter Stroud, lead guitarist for Sheryl Crow, played with her on that project. Her band, Lonesome Redwing's CD, "fly, fly, fly," features Bluegrass and Old Time fiddle classics, as well as some fresh original material. www.lonesomeredwing.com

Jenine Merritt, DVM, Paces Ferry Veterinary Clinic
(Health tips for dogs)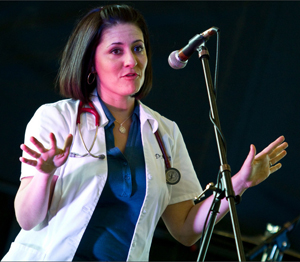 Dr. Merritt has been with Paces Ferry since May of 2002. She is a native of Atlanta and received both her Bachelor of Science in Biology and her Doctor of Veterinary Medicine from the University of Georgia. She lives in Smyrna with her husband Richard. Dr. Merritt and her husband have a son named Jack and a daughter named Mia. They also have three dogs a black Labrador named "Bubba", a chocolate Labrador named "Spike", and a Boston Terrier named "Gumbeaux."
Follow Paces Ferry Veterinary Clinic:
Amber Burckhalter, Trainer, K-9 Coach
(Dog obedience/training/nosework demos)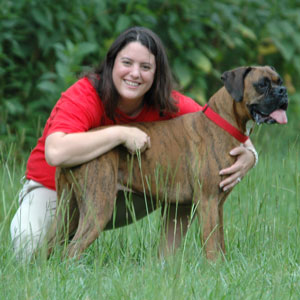 Amber Burckhalter is the owner and founder of K-9 Coach, LLC, an award-winning, Atlanta dog training and behavior modification company. Amber is also the founder of Bed & Bark, the only Atlanta doggie daycare and boarding facility to be owned and operated by a certified canine specialist.
Amber grew up in a family that was very active with dogs and, in fact, rescued her first dog when she was just 7 years old. She spent much of her high school and college years working in the veterinarian field as a kennel technician, a veterinarian assistant and a surgical technician. After graduating with a Bachelors in Science from Georgia State University, she attended Tarheel Canine Training in North Carolina - a worldwide respected canine training facility. While there, she trained and worked with dogs in search and rescue, cadaver recovery, drug and explosive discovery, personal protection and basic and advanced obedience. In 1995, Amber receiving her Certified Master Dog Trainer certification and began training professionally.
Amber is a member of the Association of Pet Dog Trainers (APDT), the International Association of Canine Professionals (IACP) and is recognized as a Certified Pet Dog Trainer (CPDT), the only worldwide recognized canine trainer certification, by the Certification Council for Professional Dog Trainers (CCPDT). She is active in numerous pet rescue organizations and the American Kennel Club's (AKC) Canine Good Citizen® program that stresses responsible pet ownership for owners and basic good manners for dogs.
As an expert in canine obedience and behavior modification, she believes that every dog and handler team is unique and their training should be designed to address their diversities. While Amber has spent almost 20 years working with all types of dogs on pack mentality, behavior modification and all levels of obedience, she is considered an expert in the canine aggression field, using positive training methods, and this is now her professional focus.
She has served as an expert witness in court proceedings and has been featured in the Atlanta Journal Constitution and other newspapers, both for her expert opinion and her call to action for other trainers. She has appeared in Women's Day, Parents Magazine, The APDT Chronicle, CNN.com and numerous other publications. Amber has also appeared on local television programs including Good Day Atlanta, with Victoria Stillwell of It's Me or the Dog and in a WSB-TV Channel 2 exposé that profiled Norred and Associates and Amber's work with busting dog fighting rings and rehabilitating abused dogs. In 2008, the Humane Society of the United States (HSUS) named Amber 'Head Trainer' for the End Dog Fighting Campaign in Atlanta and she went on to co-design the curriculum for the nationwide HSUS program. She has appeared on National Public Radio and several other radio talk shows as a canine expert and is sought after by numerous organizations for her help using positive training methods to successfully train and rehab dogs. She is proud to act as a mentor to other trainers and regularly hosts CEU approved educational conferences with world-renowned trainers. Currently, Amber is working on her first book and training video and lives at home with her husband, her toddler son, three rescued dogs and one cat.
Follow K-9 Coach:
Agility Demo Team - Todd Buchla & Georgia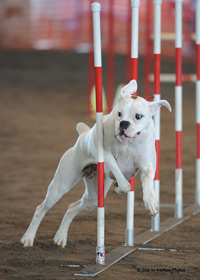 Todd Buchla and his wife, Sherry, are owned by 2 Boxers – a 5 year old white girl named "Georgia" and a 4 year old fawn boy named "Gunny." Todd and "the kids" have been training for obedience and agility competition for 4 years. Todd writes,
"Georgia joined our home in August 2008. We got our first in-person view of agility and obedience competition at the American Boxer Club (ABC) Trial, over 5 years ago and began thinking about what a great way to bond with our dogs."
Fast forward to 2010 - we were beginning to train and compete in obedience and agility. After earning the Beginning and Novice level Obedience titles and higher level Rally titles, Georgia and I concentrated our efforts in agility where we both found a sport that suited our energy levels and personality. We both found an event that we loved to participate in. While Georgia has a true drive to work and please me, the fun and adventure of the agility course best suits her personality and she brings those traits to everything she does. Georgia is the #1 AKC Agility Boxer in history and is still actively raising the bar.
Georgia is my Novice A dog (meaning the first dog I ever competed with) in all competition venues and the second Boxer that Sherry and I have owned. We recently finished our first Champion Boxer, Gunny (a project overseen by my wife), and spend most of our free time engaged in dog related activities."
Notable Performance Accomplishments for Georgia include:
First Boxer to compete in Coursing and earn the CA title
Finished as the #2 AKC Agility Boxer in 2011
Finished #9 in AKC Agility in the Working Group in 2011
Youngest Boxer to earn the Master Agility Champion (MACH) title and now only the second Boxer to have earned the MACH 6 level
Earned High in Standard and High in Trial at the 2012 ABC Agility Boxer Specialty
Finished #1 AKC Agility Boxer in 2012
Finished #3 in AKC Agility in the Working Group in 2012
Earned the #1 spot for the 2012 and 2013 Eukanuba AKC Invitational
Won the 2012 Top Boxer Award at the 2012 Eukanuba AKC Invitational
2012 ABC Top Agility Award and Top Performance Award at the 2013 American Boxer Club National Specialty
See her journey from puppy to agility champion on YouTube:
Dahlonega Action Dogs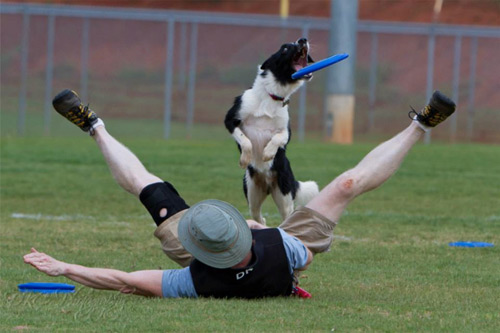 Rick and Debbie Nielsen host Dahlonega Action Dogs, an organization that encourages dog owners to have fun with their dogs through dog sports, primarily agility, disc sports, and dock diving. The Nielsen compete in the Southeast U.S. in these three sports with their three border collies.
The Nielsens became involved in disc sports after attending the 2008 International Championships of the U.S. Disc Dog Nationals. Their 4-month old pup, Tucker, was fascinated with Frisbees, and began competing as soon as he met the age requirements. Agility soon followed, and eventually Ripp and Jess joined the family. Dock diving was the last sport to be added.
Tucker, their 6 year old dog was rescued at the age of 4 months, after already having 3 owners. Tucker has a sweet, compliant manner, but is all business on the agility course or when tracking the path of a Frisbee. He recently learned to swim, and has started competing in dock diving. Ripp, their 2 year old, is a dock diver who jumps nearly 25 feet in competitions. He loves free-style Frisbee, and recently won the open division free-style event at the Georgia Nationals in Piedmont Park. Jess is the one-year old "princess with an attitude." She loves Frisbee and is the best distance tracker. She recently placed 3rd in an Extreme Distance qualifying event, and was an alternate in the USDDN International Finals held last week in Cartersville.
The Nielsens have found that, when people compete with their dogs, there are no losers. Dogs do not care whether they come in first or last – it is the joy of being with their humans that motivate and inspire them. Dog handlers seem to have a selfless mentality when dealing with their colleagues. All cheer for each other. There are no losers. Who better to spend a weekend with than a group so motivated?